Poultec Excellence Awards 2012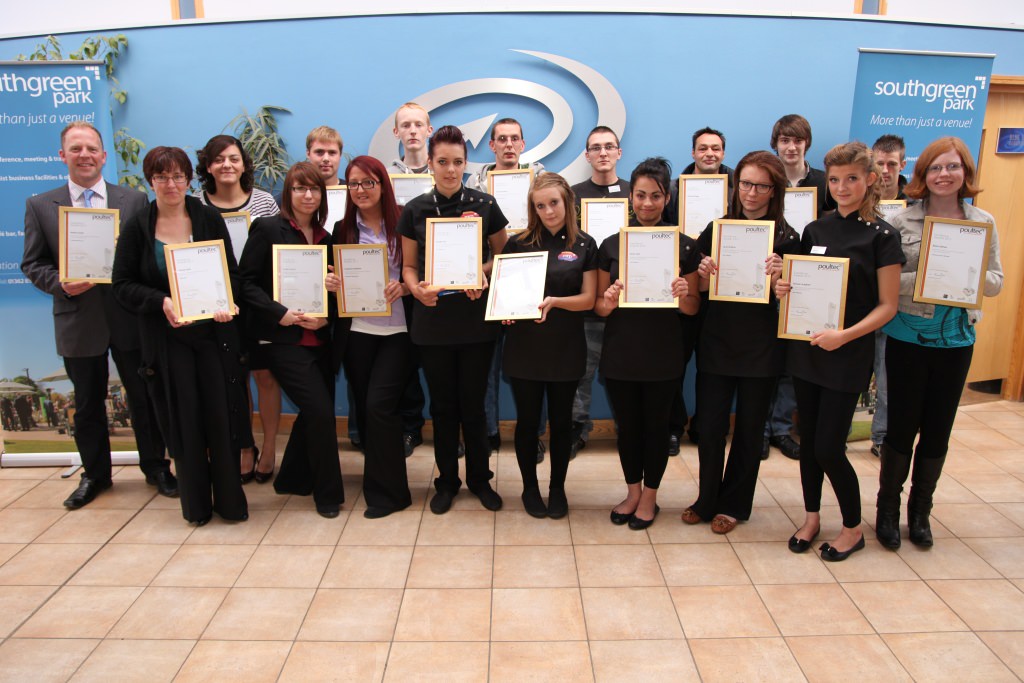 On Wednesday 19th September Poultec Training Limited held their annual Excellence Awards at their head office at South Green Park in Mattishall.  The Ceremony took place to recognise the hard work and commitment of a group of learners from across the country.  Forty learners were shortlisted from the 3,393 learners who have trained with Poultec over the last 12 months.  Those shortlisted attended the event along with their employers and guests.
The nominees of each of eight categories which included Management, Business Admin and ICT, Agriculture, Food Manufacturing, Hospitality, Customer service and Retail, Hair and Beauty, Youth and Skills for Life, were unaware of who had won the Excellence Award for their category.
Glass trophies were presented to each of the winners and the finalists received a framed certificate, presented by the guest speaker Sadie Lofthouse, HR Manager of Adnams.  During the event, Sadie spoke about how Adnams had chosen to work with Poultec having found that the two organisations shared the passion for training and developing staff.  Adnams were pleased with how Poultec worked with them to develop training programmes that met their business needs.  Staff that had been on training programmes provided by Poultec had increased confidence and had progressed within the business.
Shane Barnes who completed a Level 3 Certificate in ICT was the winner of the Youth Award.  Shane came to Poultec as a learner Not in Education, Employment or Training (NEET) and had been committed to completing his qualification, attending every session and completing the required work to a very high standard.  Shane's tutors felt that he had a true desire to complete his qualification to improve his skills and employability.
All of the winners and finalists were praised by Poultec's Managing Director, Edward Bales, who was proud of the learners' achievements and hard work.  He thanked Poultec staff for all of their hard work and efforts to help learners achieve the highest of standards and had resulted in almost 90% of their learners achieving their full award compared to the national average of 76%.
Anyone wanting to take advantage of any of the training opportunities Poultec can offer should contact them on 01362 850983 or email enquiries@poultec.co.uk