About Poultec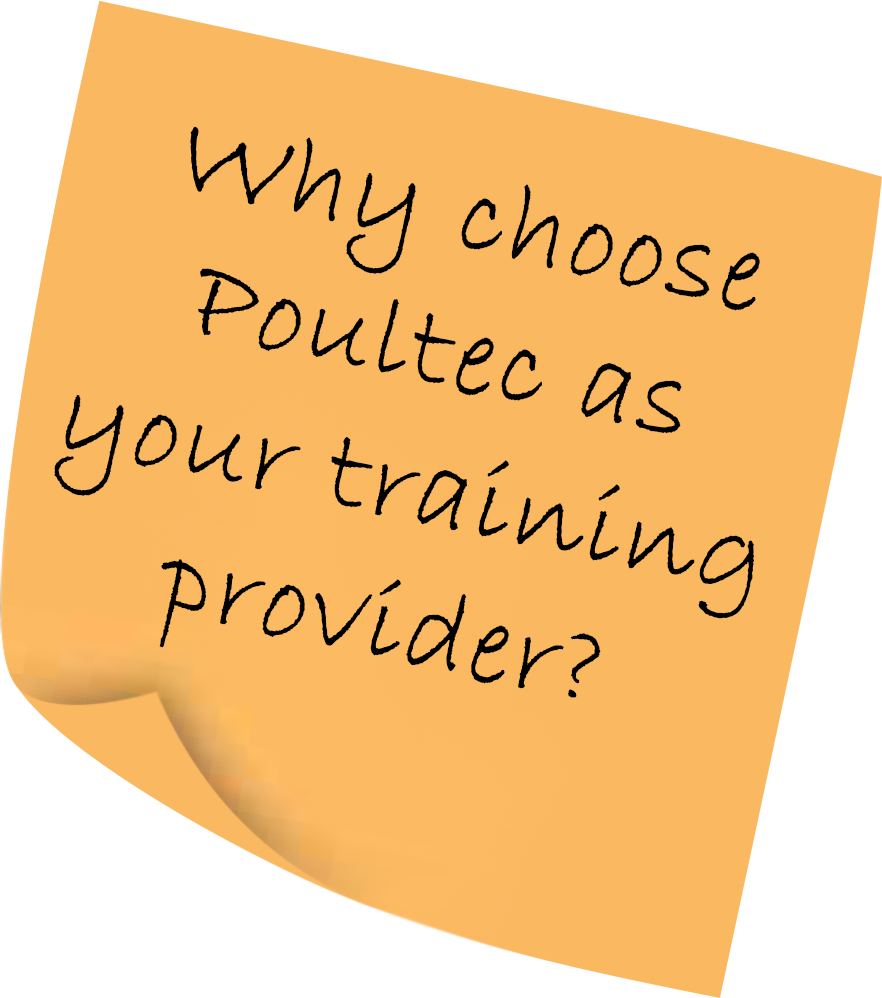 As training specialists, it is essential that we provide a range of learning opportunities that meet the needs of employers and learners. Key to achieving this is ensuring that we are flexible and responsive, to maximise participation, without compromising quality.  At Poultec we strive to ensure fairness, equality and the safety of our learners in all our activities.
The high calibre of our team and the excellent resources we have developed at South Green Park have enabled us to build a reputation for quality and reliability, both regionally and nationally.  This reputation enables us to access funding for many of our courses.
To download our latest prospectus, click here.


Apprentices are paid employees of a business, who gain experience and knowledge from working alongside skilled team members whilst also completing a qualification. The qualification is normally completed in the work-place; however apprentices may also need to attend workshops from time-to-time away from their normal place of work. The qualifications that an apprentice gains are nationally recognised qualifications, specific to their place of work.
Poultec works with organisations to recruit apprentices and deliver a tailored Apprenticeship training programme.
A pre-apprenticeship qualification is the ideal way to your first step towards starting your career. Our Next Step courses provide a classroom based course for 16-19 year olds in one of nine vocational areas. On successfully completing the programme the learner will achieve a nationally recognised qualification specific to the vocational area, functional skills maths and English as well as valuable skills to assist with the progressing into employment or onto an Apprenticeship training programme.
Poultec provides a suite of short courses that complement its Apprenticeship training programmes. These short courses are ideal way to provide Continued Professional Development (CPD) to gain new or develop existing skills. Poultec has a suite of courses accredited by the Chartered Institute of Environment Health (CIEH), Institute of Occupational Health & Safety (IOSH), as well as Poultec certificated courses.
Poultec's courses are delivered by experienced and accredited tutors. Courses can be developed and tailored specifically to your requirements.
Open courses are held on a regular basis at South Green Park, however can also be held for organisations at their own location throughout the UK.
Details of our open short course programme can be found here.
Poultec are pleased to offer a suite of courses for school and college where students have the opportunity to experience a unique style of learning, where they gain vocational, transferable work-related skills and experience. These fit alongside core National Curriculum subjects and industry standards which are delivered in partnership between schools, training providers and employers.
Poultec Training has provided state-of-art facilities at their base at South Green Park, including specialised catering training facilities and teaching hair salon. Trainers have extensive industry knowledge and have full DBS checks, therefore giving students a very positive experience in a safe environment.