Meat Our Winner!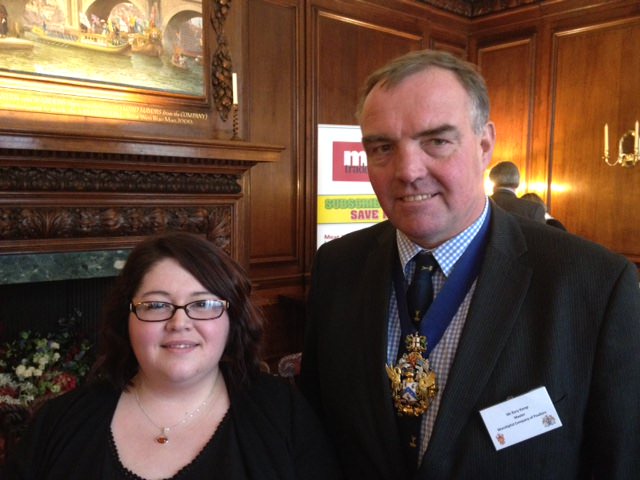 On Tuesday 23rd February 2016, Poultec Training's Apprentice, Kayley Pirie was awarded "Best Poultry Industry Student" by The Master of the Worshipful Company of Poulters, Rory Kemp. The presentation was part of The Institute of Meat/ Worshipful Company of Butchers ceremony, held at Tallow Chandler's Hall in London, sponsored by Poulters' Company,
The event saw a total of 12 prizes awarded, before a luncheon, during which the Master circulated around winners and their guests.
Kayley, who works at Banham Poultry, won the award after completing her FDQ IPQ Level 3 Certificate for Proficiency in Food Industry Skills, as part of her Apprenticeship. Since this, she has progressed from a Quality Assurer to Senior Quality Assurer and now to Compliance Officer. Kayley impressed the judges with her professional, academic outlook in the industry.
Kayley was accompanied by Geoff Roberts (Quality Assurance Manager) from Banham Poultry and representatives Barry Layton and Andrew Platten from Poultec Training Limited.
Geoff Roberts said "Everyone within the company is delighted and extremely proud of Kayley's achievements. It was a lovely day spent celebrating this."
Kayley Pirie said "It was wonderful to have my hard work and achievement of this qualification recognised by The Institute of Meat." Kayley mentioned that she will be putting the prize money towards a new laptop, which will help further her learning within the industry.