Jonathan Bowen from Poultec Training is rewarded 2018 Zoetis-BPC Trainee Award!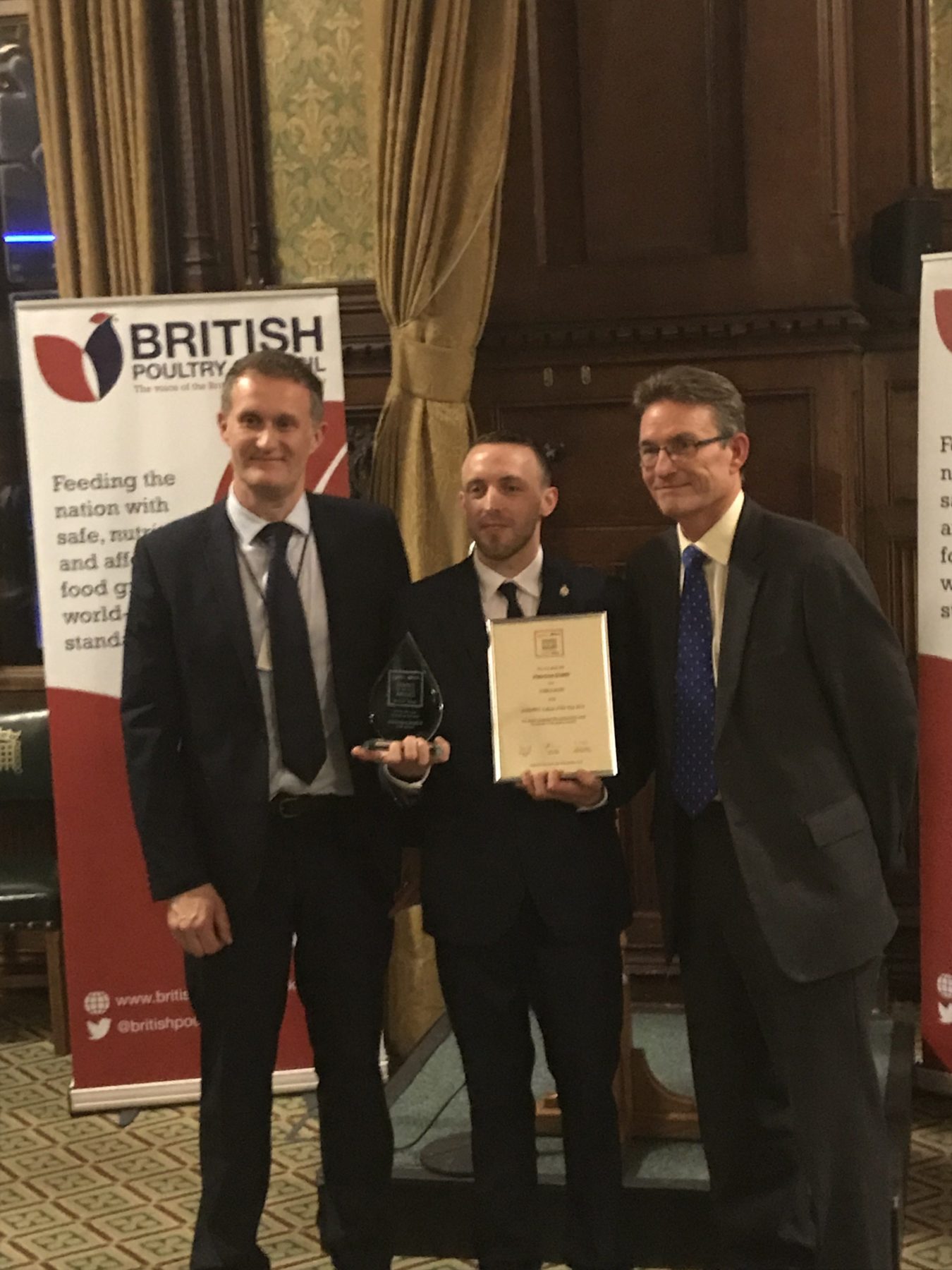 On the 4th December 2018, two of Poultec Training Limited's Agricultural learners attended the British Poultry Council awards ceremony at the Houses of Parliament. Jonathan Bowen, from Cobb-Europe and Damian Dzidek, from Aviagen, were nominated for the Zoetis Poultry Trainee of the Year Award by their tutors and selected as finalists following interviews held earlier this year.
During the ceremony, it was announced that Jonathan won the award for Trainee of the Year, and he took home a £2,000 training grant and a £500 prize from Poultry World. Jonathan's manager, Gabor Groz says, "Since joining Cobb-Europe, Jonathan has quickly become a valued member of the team. He utilises the training he has already gained and uses that within the company training to create a greater understanding of what is required on a daily basis." Jonathan's knowledge and experience has led to him becoming Relief Team Leader at Cobb-Europe.
Upon completion of his Advanced Agricultural Apprenticeship with Poultec Training, Jonathan was nominated for the Chris Coleman Award for Agriculture at their Learner Excellence Awards earlier this year, and he then went on to win this award. Jonathan says, "For me personally, it cemented my decision to proceed in my career within the poultry industry." Jonathan's tutor, Colin Emberley of Poultec Training said, "Jonathan has a great attitude and enthusiasm towards his work and training and I believe he will progress a long way in this industry."
Also nominated for the Zoetis Award was Damian Dzidek, who works for Aviagen as an Internal Auditor, providing support with document management systems, auditing and standard operating procedures. Damian commenced his work in the Poultry Industry as a Hatchery Operative, having previously worked as a Store Supervisor in a retail environment. Damian progressed through the company and has completed the training required to have a Poultry Passport.
Nathan Raines, Damian's tutor and Associate Director of Agriculture and Manufacturing at Poultec Training says, "It was obvious that Damian was keen to learn and wanted to progress within the industry. He has the commitment and attitude that will allow him to forge a very successful career in the poultry sector."
Aviagen's Head of HR, Debbie Watson says, "Damian has shown excellent commitment within all of his roles he has undertaken at Aviagen and has progressed successfully within the hatchery. Damian is a very reliable and committed individual. It is a pleasure to have him in the team and he has illustrated that with commitment and the right attitude, anything is possible."
Damian is currently under-going his Level 2 Diploma in Work-based Agriculture with Poultec Training and is hoping to progress to his Level 3 Diploma on completion.