Smiles all round at Poultec!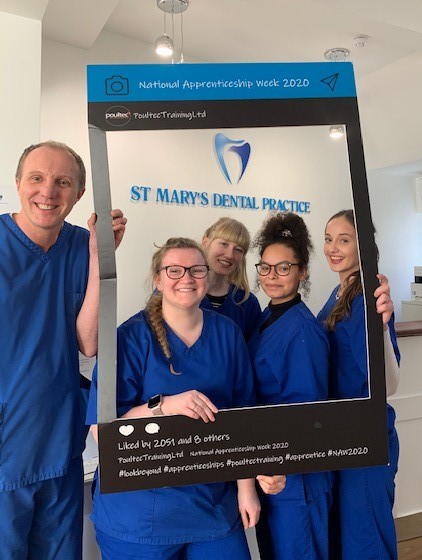 We are excited to announce the launch of our new Dental Apprenticeship training programmes. This adds to Poultec's portfolio of 17 apprenticeship programme areas. Our first four Dental Nurse Apprentices have started their programme. All four are employed at St Marys Dental Practice in Ely.
Tom Norfolk, Dentist and St Marys Dental Practice Owner says - 'It's great to have a local training provider offering these apprenticeships and it really helps to upskill people in the dental profession'.
Poultec has a track record of successfully delivering apprenticeships for more than 15 years. Not only can we deliver the training required but we can also assist the employer in the recruitment of the apprentice. The course is delivered by our experienced team who have 15 years' experience within the dental industry.
As part of the Dental Nurse Apprenticeship Standard, apprentices will complete a Level 3 Diploma in Dental Nursing. They will learn how to provide chairside support to dental professionals and deliver a high level of patient care. The diversity of the units in this Diploma covers a variety of clinical environments and reflects all aspects of clinical responsibilities and duties of a dental nurse's role. In addition, it will provide the apprentice with the relevant qualification to apply to the General Dental Council (GDC) for professional registration as a Dental Nurse.
In addition to this we will also be offering the Practice Manager Certificate. This will provide apprentices with skills for managing all non-clinical aspects within a specified practice/s to achieve excellent patient care, quality, cost and delivery performance in line with practice strategy, goals and values. Apprentices will learn how to lead the team by providing support and direction to enhance performance, skills and knowledge of all practice staff.
Michelle Bugg, Associate Director - Business & Management says 'We are very excited to be developing and delivering training in the Dental industry. Delivering in this sector will enable us to engage with young people embarking on an exciting Dental career.'