Poulters Awards 2018!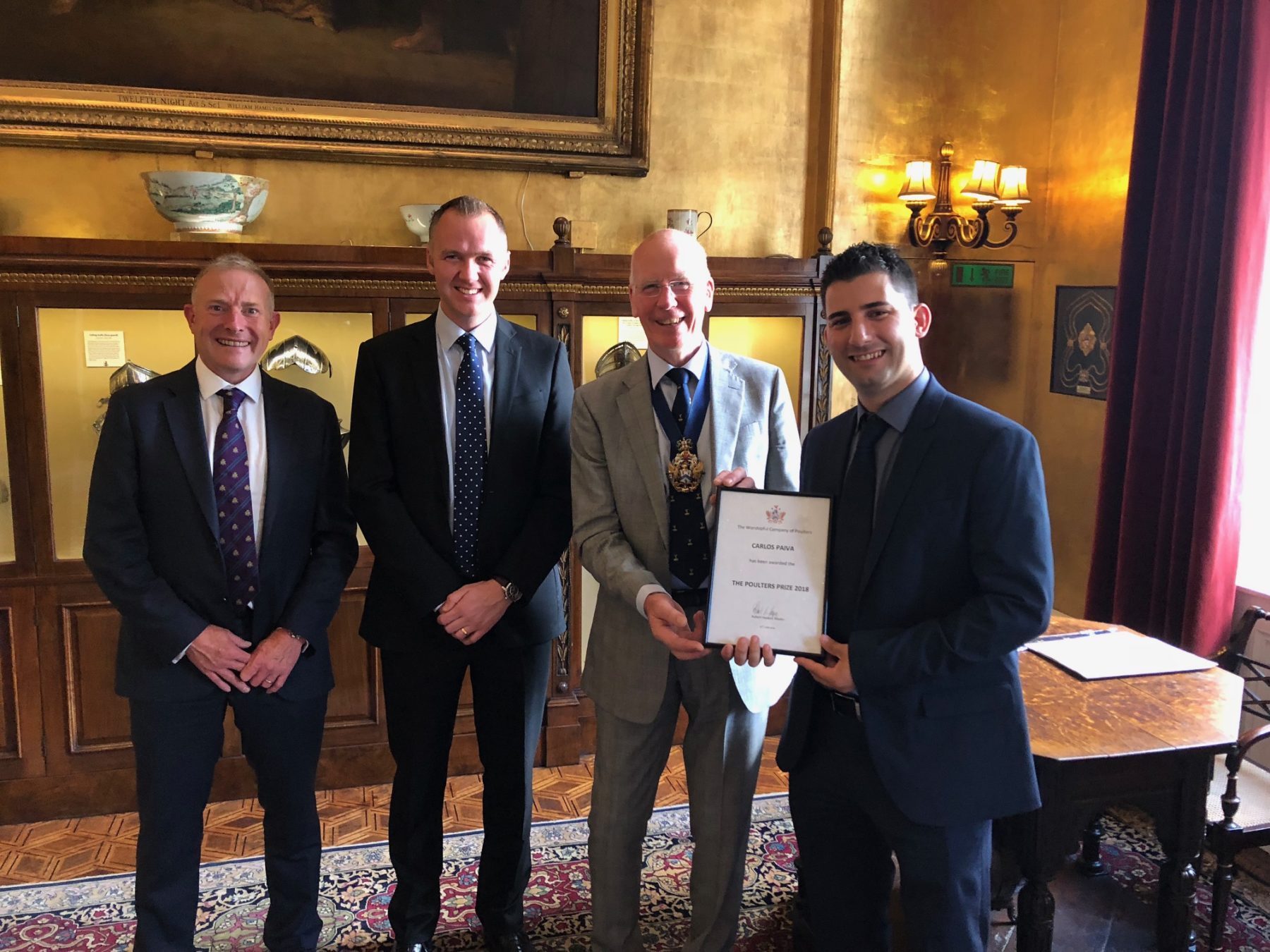 On 20th June 2018, the Poulters Awards were held at Armourers' Hall, in the City of London. Poultec Training learner, Carlos Paiva, was nominated for the Poulters Awards Student of the Year, and was successfully awarded the winning prize of £1,000 and a certificate for making a substantial contribution to the poultry sector. Poulters Master Robert Haynes presented the award and cheque for £1000 to Carlos at the Poulters Midsummer Court & Luncheon. The Company of Poulters is one of the Livery Companies of London; in 1368, the Company received power to regulate the sales of poultry, swans, pigeons, rabbits and game.
In April 2012, Carlos began work at PD Hook Hatcheries where he completed his Intermediate Apprenticeship in Agriculture. In 2015 Carlos was promoted to Assistant Hatchery Manager at Cote, the largest hatchery in the PD Hook group, where he completed his Advanced Apprenticeship in Agriculture. Carlos was in charge of managing 2.1 million chicks being hatched every week, supervising 70 staff members and improving hatchability rates from 79% to 82%. In 2018, the Manager position at Cote became available, and Carlos successfully applied! Carlos is currently undergoing his Level 3 ILM Management Diploma with Poultec.
Nathan Raines, Associate Director at Poultec Training, says, "I first met Carlos when I was his assessor during the completion of his Advanced Apprenticeship and it was very clear from early on that he had a very positive outlook, not just in regards to his own development but also for that of all his staff. Carlos is a great role model for young people in the Poultry Industry and an example of how, if you put the effort in and you are committed, you can and will progress into senior positions. I wish Carlos great success for the future."