Kings Lynn Stars swap Speedway bikes for Segways!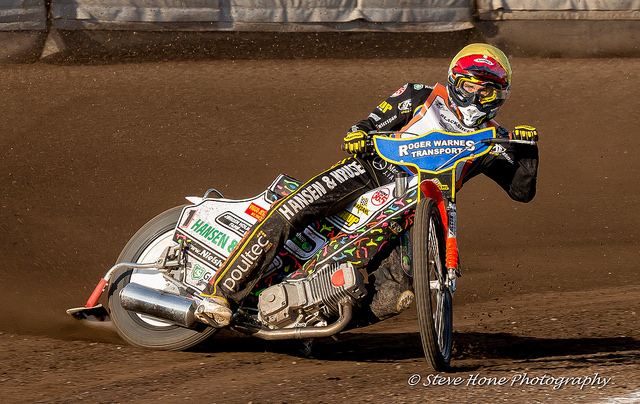 Poultec Training welcomed the 2014 Kings Lynn Stars Elite League Speedway team to their base at South Green Park, Mattishall on 13th March.  The team completed a number of team building activities, including Poultec's 'Sky Ropes' high-wire course and their off-road Segway track - activities designed to develop team working, essential for the new-look speedway team.
Poultec were also delighted to confirm that they will be continuing to support the team during their 2014 season.  Poultec are the Team Sponsor of the Kings Lynn Stars, along with Roger Warnes Transport who is the Team Title Sponsor.  Poultec have supported the Kings Lynn Stars for over ten years and look forward to the continued partnership between the two organisations.
Poultec's links to speedway, which also includes sponsorship of local riders Olly Allen, Robert Lambert, and Youth Grasstrack riders Adam Bales and Jack Thomas  are part of the organisations efforts to promote Apprenticeships to school leavers as an alternative choice when leaving full-time education.  Edward Bales, Managing Director at Poultec commented "As a leading Apprenticeship provider, we can see the benefit of bringing young riders from the lower leagues and giving them the chance to develop in the Elite League.  Development is something we feel very strongly about here at Poultec". Edward, a former speedway rider himself who has recently returned to Grasstrack racing after 23 years absence to mentor Adam and Jack, confirmed that Poultec are developing a bespoke training programme for up and coming riders which includes modules on business management, PR and marketing, health & safety  and sports fitness & diet.
Developing people's skills is not something new for Poultec – Poultec Training have been delivering Apprenticeship programmes for over 15 years.  An Apprenticeship provides an alternative choice for a young person leaving full-time education, enabling them to earn a wage and obtain a formal qualification.  The Poultec Team are on-hand to help businesses recruit Apprentices for their organisation and to signpost young people to current Apprenticeship vacancies.
Poultec Training, based at South Green Park Mattishall, is a provider of Traineeship, Pre-Apprenticeship and Apprenticeship programmes across the UK.  They deliver work-based training in sectors such as Agriculture, Food & Drink Manufacturing, Management, Customer Service, Retail, Hospitality & Catering and Butchery.
Contact Poultec Training for more details of their training programmes, including Apprenticeships and bespoke team building courses on enquiries@poultec.co.uk or 01362 850983.  Further details can also be found on their website www.poultec.co.uk.