Kick Starting Young Speedway Riders Careers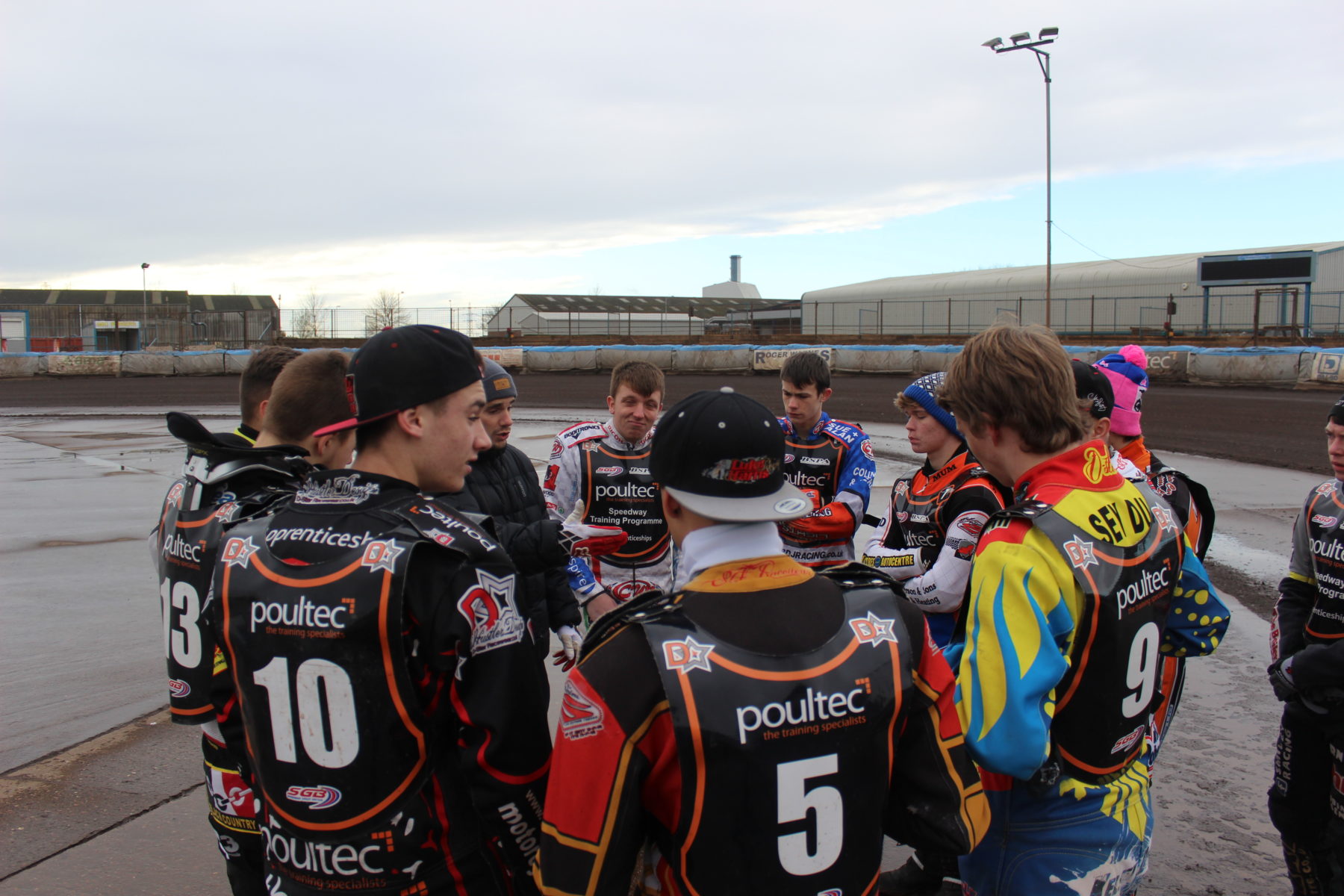 Representatives from Poultec Training joined fellow local businesses on Friday 11th March at a fundraising event called "Kickstart".  The event organised by the King's Lynn Rotary Club was to raise funds to support aspiring, young speedway riders with the cost of bikes and equipment during their speedway training programme.
The fund raiser at Timber's County Lodge in Fincham saw over 100 guests and professional speedway riders raise funds with an auction with included items such as, a signed race suit from Rory Schlein, a hospitality night at Speedway and a week's holiday in a villa in France.
The speedway rider development programme is a tailored training programme which Poultec, a local Apprenticeship training provider, developed with the British Speedway Promoters Association, to train new riders entering the sport. The programme was launch in 2015 with twelve young riders and is now enrolling for the 2016 season.
Oliver Allen, tutor of the programme, explained at the event that it is designed around helping young riders progress to give them knowledge and hands on experience in the world of Speedway. The programme covers elements such as fitness, nutrition, psychology, basic book keeping and bike maintenance, which is taught at both Poultec's base in Mattishall and at their Engineering Centre in Norwich.
The money raised from the event will go towards buying bikes for the young riders on the Poultec Speedway Training programme to use, ride on and maintain in their workshop. The bikes will also be used for taster days throughout the year to raise the profile of Speedway and Poultec's training programme.
Sponsors of the evening's event included, A&P Windows, Kings Lynn Stars, Martin Reynolds Construction, Kings Lynn Young Stars, Poultec Training Limited, Plumbase, Morgan Law Insurance Brokers, Glaze Wing, KL Magazine, Roger Warnes, SCL Interiors, 4 Way Refrigeration Ltd, Carter Haulage, Edmundson Electrical, Howdens, MKM Building Supplies, Fujitsu Air Conditioners, Minuteman Press and Adrian Flux.
Poultec Training would like to thank King's Lynn Rotary Club and Timber's County Lodge for hosting and organising such a brilliant event.