Kettle Foods' Staff Celebrate Success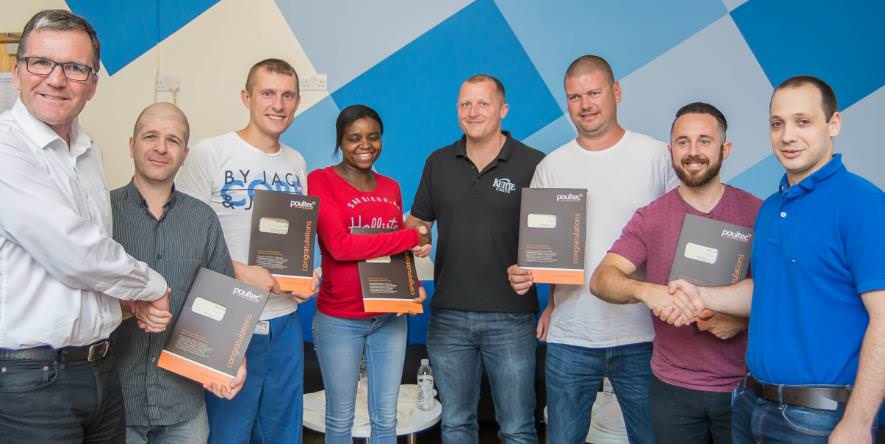 A group of Kettle Foods employees recently celebrated achieving their Apprenticeships for the FDQ Level 2 Certificate for Proficiency in Food Manufacture Excellence with a buffet luncheon and awards presentation.
Certificates were presented by Kettle Foods Operations Director, Michael Artt, who went on to highlight the company's commitment to staff development and the value Kettle Foods places on the achievement of this pilot FME group.  Michael said: "I would like to take this opportunity to thank the group for their efforts in completing the Apprenticeship programme.  The new skills that this group have acquired during the Apprenticeship will really help them in their daily roles and will support the Company's programme for driving business improvement."
The Apprenticeships were delivered by Poultec Training, a local training provider who enjoys a successful partnership with Kettle Foods. Poultec's Training Director, Neale McArdle, congratulated the FME Apprentices on their achievement. Neale added: "It is fantastic to see these people here today collecting their certificates and celebrating their success. This is based on a lot of hard work and effort over the past 12 months."
The nine employees who completed the apprenticeship are Cleopatra Maseko, Lee Lathwell, Darius Gailiunas, Richard Hewitt, Mark Clubley, Holly Brown, Jolita Ivanauskaite, Stephen Moore and Tamas Fogarasy.
The apprenticeship scheme covers a variety of units which are relevant to each employee's role, specifically incorporating competence and knowledge units which can be implemented into their day to day tasks. Examples of some of the subjects covered by the key units include continuous improvement techniques, health and safety and sustainability. All of these skills enable employees to contribute to a highly skilled and strong workforce.
The presentation was attended by Kettle Foods Management including, Kelli Copping,
Engagement and Communications Officer , Paul Stobart, Head of Manufacturing, Ramos Asier, Department Manager, Darren Mickleburgh , Production Training Manager , Julian Nichols, Poultec Functional Skills Tutor/Assessor and Tim Hammond, Poultec Training, Lead Assessor.
For further information or images please contact Alice Goldsmith at Poultec Training Limited.
About Kettle Foods
Kettle Foods, producer of KETTLE® Chips, was established in 1978 in Oregon, USA and came to Britain ten years later. For more information visit www.kettlechips.co.uk
They have always believed that the simple approach to good food is best. No artificial colours, flavours, preservatives or MSG are added to the process
KETTLE® is the registered trademark of Kettle Foods Ltd. To help protect the trademark, please may we ask that the mark is used in this style.