Banham Poultry Staff Celebrate Success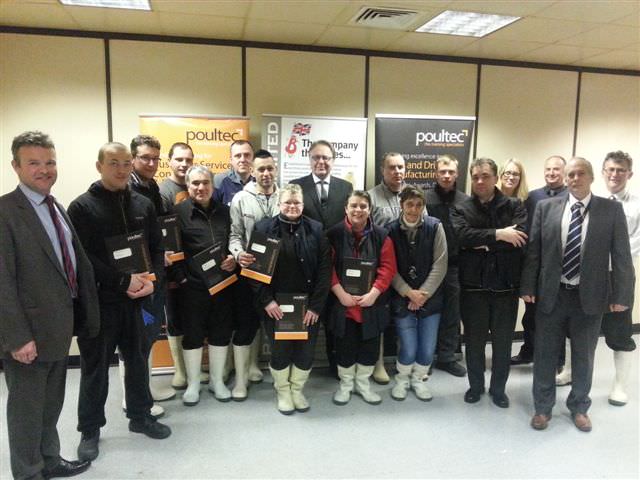 On Wednesday 26th March, a group of 18 Banham Poultry staff celebrated achieving their Apprenticeship Awards.
Achieving Level 3 Advanced Apprenticeships were Heidi Davis, Paul Ethridge, Magdalene Kostuch, Martin Kula, Laimutis Mocevicius, Natalija Perkuna, John Walters and Linda Walters.
Achieving Level 2 Apprenticeships were Alvaro Goncalves, Janis Leipins, Igoris Matiusovas, Luis Cravinho, Jose Ribeiro, Karen Sheridan, Dominik Dowgialo, Susan Colman, Rachel Costa and Krista Knutina.
Certificates were presented by Banham's Chief Executive Martyn Bromley who went on to highlight the Company's commitment to staff development and the value Banham places on the achievement of this group.  Martyn also thanked the group for their on-going support and commitment, describing recent successes and plans for a very bright future for the business.
The Apprenticeships were delivered by Poultec Training, a local training provider who have enjoyed a long and successful partnership with Banham going back to the first NVQ starts in 1997.  Poultec's Training Director, Neale McArdle congratulated the Apprentices on their achievement and the fantastic level of project work they produced throughout their courses which ranged between 12 and 18 months.
The presentation was also attended by Banham's Finance Director, Sarah Foulger and Management team; Colin Mc Dowall ,  Andy Blackmore, Nigel Marlow, Phil Bath, Alun Lane  as well as Tim Hammond from Poultec.