Banham Poultry Celebrate Staff Training Success!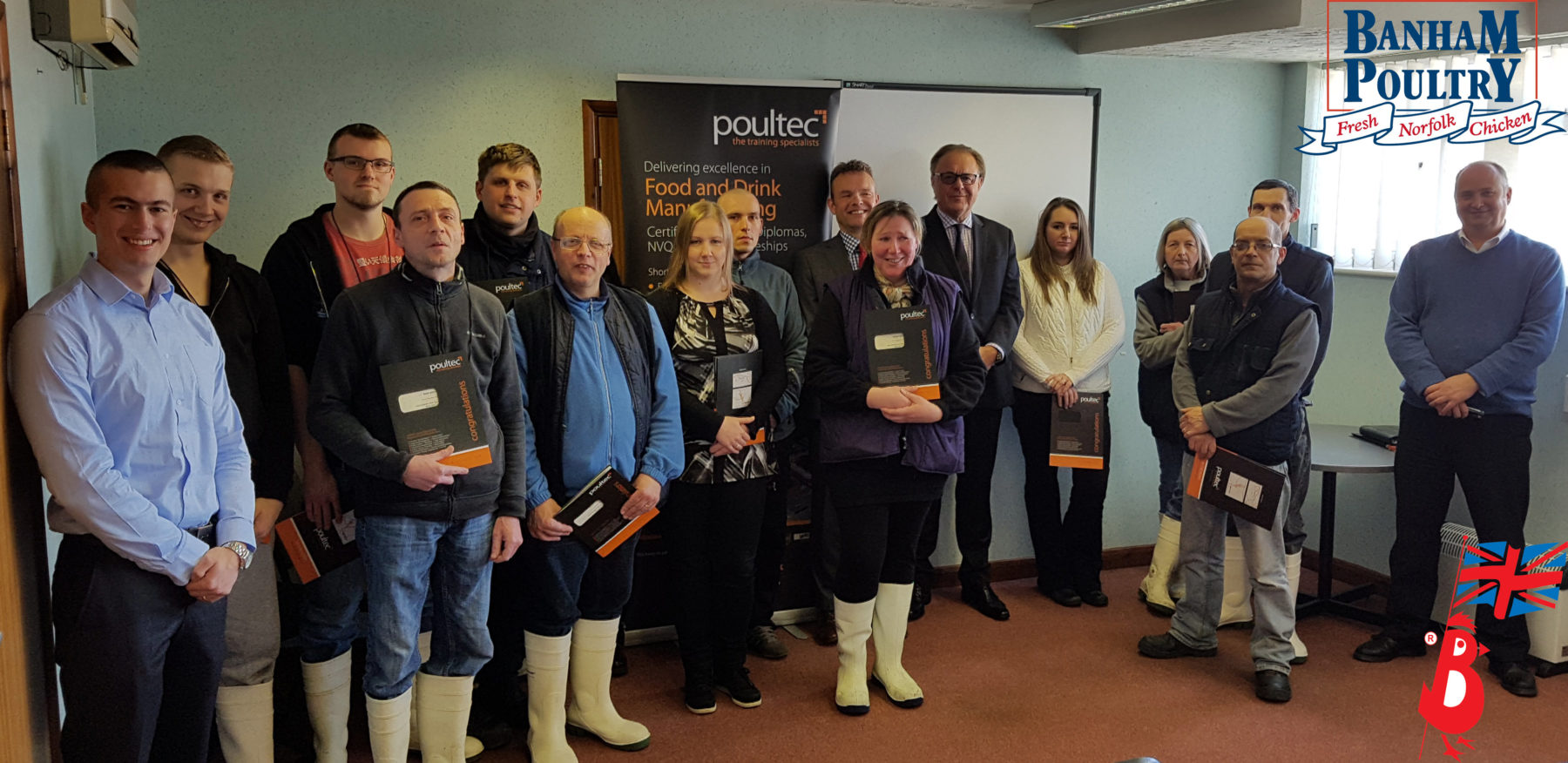 Food Manufacturing learners at Banham Poultry are celebrating this week after successfully completing Apprenticeships in Meat and Poultry.
To celebrate their achievement they were presented with their certificates by Martin Bromley, Chief Executive of Banham Poultry, Neale McArdle, Training Director of Poultec Training and Nathan Raines, Associate Director for Manufacturing and Agriculture of Poultec Training.
Nathan Raines congratulated the learners on their achievements and stated how pleased he was to see such a large number of learners within the business achieving qualifications.
In all, 42 learners were presented with their awards which included Industry Proficiency in Meat and Poultry and Functional Skills Maths and English. The learners completed their training over a 12-18 month period, receiving regular on-site visits from their assessors and completing knowledge work on their e-portfolios.
Nathan Raines also added how Poultec have been working in partnership with Banham Poultry since 1997 and it was great to see this successful relationship continuing to grow.
Martin Bromley said, "Banham is committed to the development of its staff across all aspects of its business from Farm to Fork and Poultec has been an integral part of that process since 1997. We are a major employer within mid-Norfolk, which is due in part to an excellent product and a dedicated workforce and one of the best ways to maintain that is through continuous professional development of our staff. I would like to take this opportunity to thank you all for the hard work you continue to put in and congratulate you on your achievements."
Poultec Training was established in 1997 and delivers work-based training in sectors such as Business Administration, Engineering, Customer Service, Hospitality and Catering, Manufacturing, Agriculture, Retail, Butchery, Hair & Beauty and Information Technology. Poultec Training offers programmes including Apprenticeships, Traineeships and a wide range of other courses to benefit people in work and people looking for work.