The Outdoor Adventure Experience – Activity Days and Sky Ropes Course
We offer a fantastic range of team building activities, both indoor and outdoor, including the ultimate Sky Ropes experience, which soars over 8m above the ground with seven physically exhilarating stages culminating in an 80m zip wire. All our activities are led by qualified instructors and are suitable for all ages. We have a range of programmes developed for all types of groups including school groups, leadership days for managers, private parties and staff or even stag or hen do's. Whether you are looking for a fun day out, a corporate team building day or maybe just a day out with the school we have something for everyone.
Something For Everyone – We have a range of activities suitable for children and adults.
Packages can be developed specifically to your requirements and groups abilities.
Contact one of our team today to organise the perfect package for you and your guests.
Outdoor Activities
Sky Ropes

Boulder Wall

Segway Course

Chasm Crossing

Spiders Web

Trust Fall

Bocarts

9 Hole Golf

Climbing Wall

Walk in the Dark

Obstacle Course
Indoor Activities
Communication Tasks

Butchery

Cooking/baking Classes

Sausage Making
Our diverse range of activities, where we guarantee there is something for everyone..
Segways; Don't be fooled by the nimbleness with which people zoom around on Segways, on our course emphasis is placed body alignment and balance in order to maximise your Segway potential!
These two-wheel electrical Segways are fast and highly manoeuvrable. They are easy to get the hang of too! Segways are technologically fascinating and offer an entirely unique experience that's thrilling, great fun and full of excitement.
This task is all about finding the balance, do you think you've got what it takes?
Archery is a much loved traditional sport, but on our adventure course you will need to apply a huge amount of concentration and focus in order to hit the bullseye! Keeping calm is key, don't let others put you off as you attempt to pull your winning shot!
This activity is all about co-ordination. Bring out your competitive side whilst learning a new skill.
This is a great way to boost the motivation of a group, with a visible goal it is easier to work together in order to ensure as many great arrows are fired as possible. Focusing your mind and achieving a great score is unbelievably satisfying for any outdoor adventurer.
Climbing Wall; Try our state of the art 23 ft climbing wall! The mobile wall can be hired for your event or we can come and run a session for you at your school, college or organisation.
Anyone who attempts to scale the climbing wall will need to truly focus their mind, as this is a challenge not only based on physical agility but also mental fortitude. Knowing how and when to make your next move is integral to a successful climb, as is knowing whether to place your hand or foot in order to not lose your balance.
Planning ahead is crucial when facing the climbing wall, you will need to envisage your route upwards quickly and methodically so as not to slip up. This is not a challenge for the faint hearted as once the pressure is on you will need to make sure you have what it takes to reach the top!
Skyropes; Are you bold when it comes to heights? For the startling Sky Ropes, you'll need to be! Confidence is integral to this activity – you will need to be able to ignore the height and focus on making your way smoothly across the ropes to victory.
Challenging and scary yet entirely secure, the Sky Ropes uses a 'safe roller' system to ensure your safety at all times. With tricky crossings and obstacles that will test your balance, this is a fantastic experience you won't forget.
Our Sky Ropes activity will push you and your peers to the limit! Improving your balance, confidence and controlling those all-important nerves is vital to success at this activity. Utilizing your core strength, why not become the envy of your friends and glide across Sky Ropes like a professional!
Bocarts; There is no limit to the fun to be had on one of our Bocarts. These great Bocarts are an excellent way to boost team morale, all whilst experiencing the exhilarating thrill of zooming around our adventure-filled track.
Our fast, robust and rugged Bocarts are the perfect off-road experience.
This activity will really show who has the confidence to succeed on the track, whilst also the patience to not be over zealous or attempt to throw off your competition by cutting them up! You will need to show concentration and also utilise your spacial awareness to cross the finish line a champion!
Plus Boulder Wall, Chasm Crossing, Spiders Web, Trust Fall, 9 Hole Golf, Walk in the Dark, Obstacle Course and much more…
Packages are created specifically for you, taking into account the type of experience you would like and the abilities of you and your guests. We have a range of indoor and outdoor activities to choose from.
The packages below are examples, contact us for a bespoke package to meet your requirements.
Package 1 – Schools/Youth Groups
Welcome Briefing
Spiders Web
Walk in the Dark
Chasm Crossing
Segways
Sky Ropes
Package 2 – Parties
Welcome Briefing
Climbing Wall
Segways
Picnic Lunch
Sky Ropes
Package 3 – Stag & Hen Do's
Welcome Refreshments & Briefing
Bacon Butties
Sky Ropes
Segways
Archery
Afternoon Tea or BBQ
Celebratory Drink
Package 4 – Corporate Away Day
Welcome Refreshments & Bacon Butties
Spiders Web
Walk in the Dark
Chasm Crossing
Buffet Lunch
Segways
Mid-afternoon Refreshments
Archery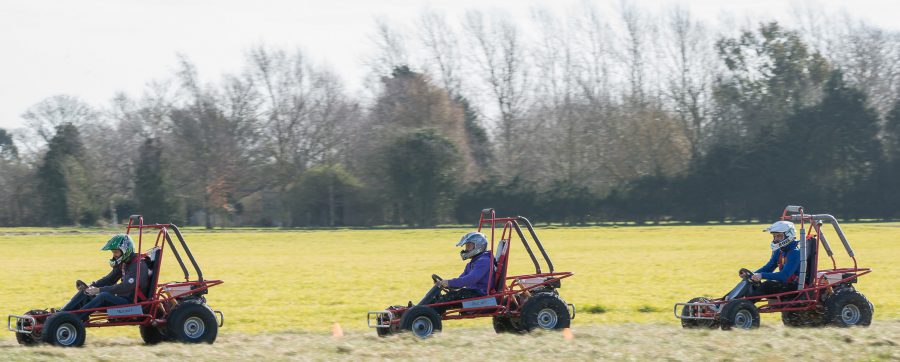 A few kind words from our customers…
"We were looking for a fun day for our family and friends and found the Outdoor Adventure Experience. Being a group of adults and children, it was difficult to find something for everyone, however here there were lots of options for all ages. The Segways were great fun – even I managed to master them! We finished the day with a lovely meal in the restaurant. I'd highly recommend the venue." Family fun-day organiser
"I organised a stag do for my best mate and a group of our friends – the team at South Green Park were fantastic and the activities were great fun. We took part in a number of activities, including the Skyropes course and obstacle course. We finished the day with a BBQ and drinks on the Sun terrace" Stag Do Organiser
"Our business wanted to provide a unique team leading event for our production staff, to improve communication and improve team working. We discussed our requirements with the team from South Green Park, who developed a bespoke programme which not only met our requirements, but exceed our expectations. South Green Park took care of the whole event, from planning through to the final debrief. The production team is now working much better as a team and have improved our operational performance. We certainly will use them again." HR Manager; local manufacturing team
"Our scout group attended an evening session where they took part in a number of fun activities, including Segways, the Sky Ropes and climbing wall. The team at South Green Park provided a safe, fun environment for the scouts. The feedback from the group has been really positive – we are now looking to book next year's date!" Local Scout Leader