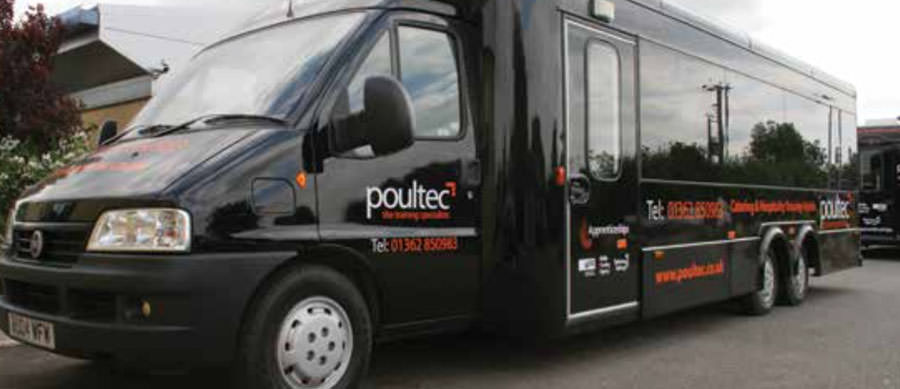 Delivering training in the workplace allows learners to acquire skills within an environment that is familiar to them and also reduces staff downtime. Not all places of work have dedicated facilities for staff training on site, which is why Poultec have invested in three learning vehicles which allow state-of-the-art learning facilities to be brought into your workplace.
The IT Vehicle is ideally suited for delivering IT based training in both the community and the workplace and contains high-specification laptop computers which provide workstations for ten students and one tutor. The on-board broadband connection provides high-speed internet access which, combined with its own generated power supply, means that IT training can be delivered in any location. As well as providing printing across its own self-contained network, the vehicle also has a large plasma screen for tutor demonstrations.
The Hospitality Vehicle is a fully-functioning commercial kitchen on wheels. With its own generated power supply, water storage and waste water collection, this vehicle can provide high-end kitchen facilities in any location. The vehicle contains a range of ovens, hobs and refrigeration equipment, as well as plenty of food preparation space. This versatile vehicle can be used as a food preparation area or with its own serving window as a dedicated server.
The Information Vehicle has been developed to provide information advice and guidance but can also double as a classroom. It has its own generated power supply, powering a large plasma screen that can be linked to a laptop computer. The soft seating area and external canopy provide excellent breakout and networking areas.
All our vehicles are available to hire, with or without support staff. Call us for more details.